With SIHH 2018 around the corner, we are wondering what we are going to see from our favorite independent brands. I mean, just a few weeks ago MB&F unveiled its $159,000 Legacy Machine No. 2 with a regal purple dial. Crafted in 18-karat white gold, the LM2 White Gold Purple watch is being created in  a limited edition of just 12 pieces.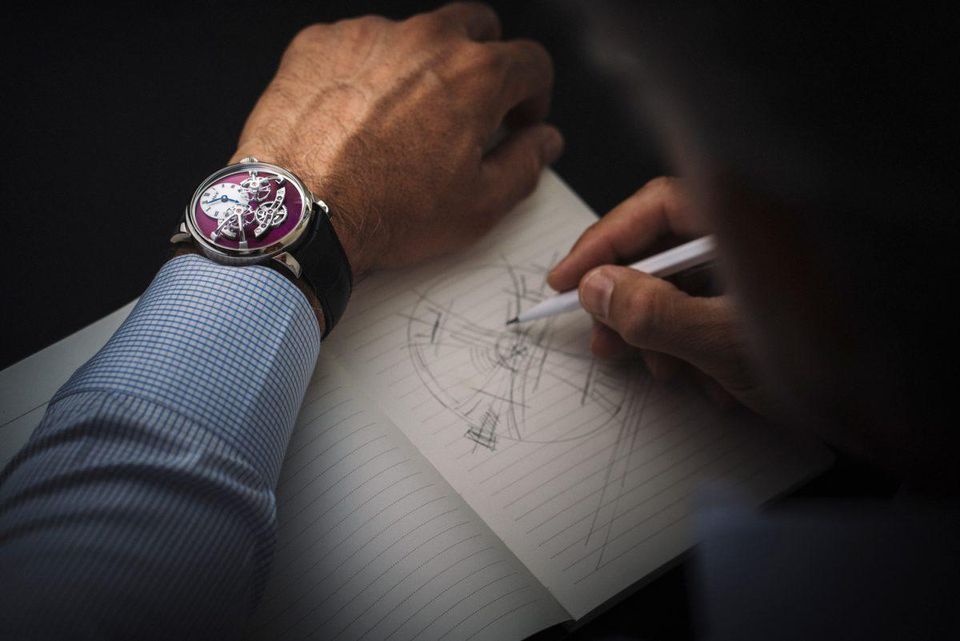 Recently, I wrote about this watch on my Perfect Timing column on Forbes.com, now, I bring the story to my ATimelyPerspective readers.
"The LM2 movement of this watch was conceived of by watchmakers Jean-François Mojon of Chronode and Kari Voutilainen for MB&F and pays homage to the finest watchmakers in history, as well as to the today's top watchmaker Philippe Dufour (who created the first watch with dual regulators and a differential), the LM2 features two dual regulators  (fully independent flying wheels and escapements) whose energy is transmitted by a central planetary differential (the large raised piece at 6:00 on the dial)  to a single gear train. The job of the differential is to transfer the power to  each of the regulators, to receive the timing rates from each balance and to transmit the average rate of the two regulators to gear train in order to display the time with incredible precision.
The historical significance of dual regulators dates back to the 18th century when watches were not as precise for a variety of reasons.  Several key watchmakers (including Ferdinand Berthoud and Abraham-Louis Breguet) found ways to improve timekeeping using double regulators wherein there were two movements inside the watch. These timepieces were incredibly limited. It wasn't until Dufour launched his watch Duality in 1996 that the two balances (regulators) were joined by a differential instead of having two separate movements.  Having two balances means that each beats at a natural rate and the differential calculates and supplies an average rate, reducing stress on the mechanics. The three-dimensional movement with manual winding offers 45 hours of power reserve and consists of 241 part and 44 jewels."
Technical Specifications
Launch editions in 18k red gold, 18k white gold and a limited edition of 18 pieces in platinum 950; and a redesigned 2017 version in a limited edition of 18 pieces in titanium.
Engine:
Three-dimensional horological movement developed exclusively for MB&F by Jean-François Mojonat Chronode, and Kari Voutilainen
Manual winding with single mainspring barrel
Power reserve: 45 hours
Differential: Planetary differential comprising 3 gears and 5 pinions
Balance wheels: Two bespoke 11mm balance wheels with four traditional regulating screws floating above the movement and dials
Balance spring: traditional Breguet curve terminating with stud holder
Balance frequency: 18,000bph / 2.5Hz
Number of components: 241
Number of jewels: 44
Superlative hand finishing throughout respecting 19th century style; polished internal bevel angles highlighting handcraft; polished bevels; Geneva waves; gold chatons with polished countersinks; hand-made engravings
Functions:
Hours and minutes
Planetary differential transmits the average rate of the two regulators to the single gear train.
Case:
Material: launch editionsin 18k red gold, 18k white gold, andplatinum 950 limited edition of 18 pieces; and a redesigned version in Ti-6Al-4V (grade 5) titanium in a limited edition of 18 pieces
Dimensions: launch editions: 44mm x 20mm, titanium edition: 44mm x 19mm
Number of components: 45(red or white gold and platinum edition), 41 (titanium edition)
Water resistance: 30 m / 90′ / 3 atm
Sapphire crystals:
High domed sapphire crystal on top and sapphire crystal on back with anti-reflective coating on both sides.
Strap & Buckle:
Black or brown hand-stitched alligator strap with 18k gold, platinum or titaniumtang buckle matchingthecase.